Australia is enormous. There are all kinds of landscapes in this huge country, including deserts and tropical forests.
Australian animals:
There are some special animals in Australia:
kangaroos, koalas, dingoes and wombats.
The outback:
The outback is in the inside of Australia. Some people live there on enormous cattle farms. The population in Australia outback
is not very big.
Uluru (Ayers Rock):
Uluru is in the outback in central Australia. The Uluru rock is about 350 meters high, and it has a circumference of 9.4 kilometers.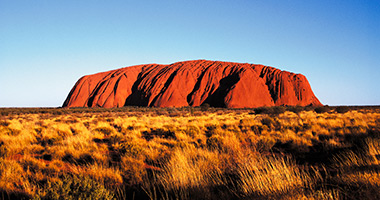 The great barrier reef:
The Great Barrier Reef is the biggest coral reef in the word. It has got over 2,900 individual reefs and 900 islands. Many animals such as dolphins and tortoises live there and
there are over 1,500 species of fish there.
Sydney:
Sydney is a beautiful city in south east Australia. Sydney is the city with the largest population, 4.6milion people. Sydney opera is Australia's most famous building. And Sydney has got beautiful parks and excellent beaches.
Australia and sports:
Australia loves rugby. The Australian rugby team is The Wallabies. The wallabies are Australian animals. The Australian rugby team wears green and gold stripes.

New Zealand:
On the right of Australia we can see New Zealand. In New Zealand there are also many beaches, for instance: Piha, Ackland, Omaha, Pakiri and more.